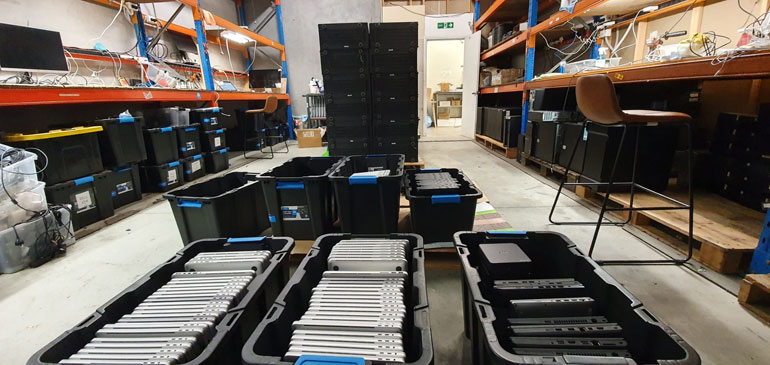 By Chelsey Keith P. Ignacio, Special Features and Content Senior Writer
Technologies are being incorporated in nearly every aspect of people's lives at present. From connecting to other people, working or learning, or even availing services such as banking and healthcare, a lot of activities can now be undertaken in the digital space. Even so, physical devices are needed to access these digital services. And with more innovations rapidly emerging, many old technologies are being discarded to make room for new ones.
However, this could result in a problem with electronic waste (e-waste). The generated waste stream from thrown out electrical and electronic equipment hold hazardous and valuable materials, according to the United Nations (UN). In its Global E-Waste Monitor from 2020, the UN reported that the Philippines is among the top producers of e-waste in Southeast Asia, with an estimated 3.9 kilogram of e-waste per capita in 2019.
But this record was before the pandemic. In 2020, the coronavirus disease 2019 (COVID-19) crisis spurred digital transformation amid the restricted mobility to curb the situation. As such, many organizations and people began to further embrace digital technologies.
Amid the rise of reliance on such devices, an opportunity was generated to come up with a recycling solution to deal with unused technologies, particularly in households in Australia. This led to the development of tech recycling startup ZOLO there in 2020.
"In light of COVID, the demand for technology and the fact that there isn't really a solution for households as to what to do with old technology. We started the business from that insight, and that propelled us to explore it a bit further," ZOLO CEO and Founder Franz Phillip Siasat told BusinessWorld in an interview.
Started out with a Facebook campaign to encourage Australians to declutter for good and going house to house in Sydney to gather these old technologies, ZOLO has grown as a purpose-led startup trusted by brands such as Canva, Dyson, and Bank Australia for tech recycling.
"What we have established here in Australia, we have created a solution for businesses to get rid of their tech in a way that's sustainable, secure, and good for the company as well," said Mr. Siasat.
ZOLO will soon extend such a service to the Philippines by setting up a tech recycling facility in Santa Rosa, Laguna this year. By introducing its tech recycling solution to the country, the startup could create several benefits both for Filipino businesses and communities.
The startup contributes to sustainability by employing a circular approach, that is by refurbishing technology to give it a new life instead of ending up in the landfill. And for security, it uses a military-grade data destruction process to ensure that these old technologies would have their data deleted and unable to be retrieved.
It also came up with a platform for companies' information technology teams to deal with their e-waste. The Zolo Single Touch streamlines this management for businesses by simply uploading their e-waste inventory, and then Zolo handles the rest of the complex processes.
The software also comprises a feature where businesses could have a look at their environmental impact, including real-time data on e-waste averted from landfills and an estimate of carbon emissions prevented, among others.
Businesses could benefit further through the rebate program that allows them to maximize the value of their eligible old devices, which could be spent for procuring new technologies.
"It's an Australia first; it's a Philippine first as well. So, I'm excited to launch that, and some of the partners that we have in the Philippines are very excited to introduce that to their teams as well." Mr. Siasat said.
In addition, as its tech recycling solution supports businesses, ZOLO also enables further accessibility to technology among other people.
"What we're passionate about and what works for us as a business as well is creating opportunities for other people to have access to technology. And that's by working with companies, securing their old tech, and recycling it in a way that creates a platform for other people to be able to access technology in a more cost-effective way," Mr. Siasat said.
Still, the ZOLO Founder never would have imagined that they would help solve the digital divide problem if he were to be asked years before.
"But I think that's the beauty behind the platform that we've built, and also the market that we'll soon be operating in, which is in the Philippines," he said. "[There are] plenty of opportunities to implement new solutions to potential problems that we could solve as a company because that's the most important thing for us."
"Whilst we are a business, we use our platform and business to be a force for good, and that's kind of our approach as well when we work with other partners," he continued.
Mr. Siasat said he looks forward to building partnership and community, and creating something that can engage the community as ZOLO will soon kick off its operations in the Philippines.